If you have been reading my posts for the past couple of days, you should know I am now traveling across country with my boyfriend, Rob, to help move him to L.A. If you haven't, check out my post titled L.A. or Bust to find out more.
We started our trip this morning around 10 a.m. packing a few odds and ends and stuffing his final pieces of furniture into the U-Haul trailer.
His '97 stick shift Mazda 626 has never hauled anything other than passengers before this trip, so he didn't know what to expect. Not only that, the weight limit for the trailer is 1000 pounds. Well, the trailer is filled beyond its capacity, so the drive has been interesting to say the least. Everything has been fine so far, but it has taken some getting used to...Especially when going over roads like this in St. Louis...
We were searching for a place to park our 25ft ride and were forced to drive down this narrow one way bumpy road. After a few hitch drags and bounce outs, we found a spot about 20 minutes from the Arch. A fun little jaunt in the pouring rain led us right to the metal gates of the Arch being closed for the day.
We missed it by just a few minutes!
But that didn't stop us from taking some pictures!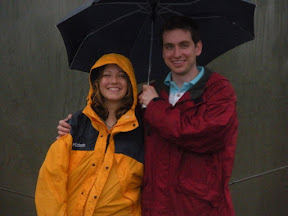 As we speak, we are still on the road, driving in the rain, recovering from a food coma induced from a meal of fried chicken and fried potato wedges. It feels like State Fair already!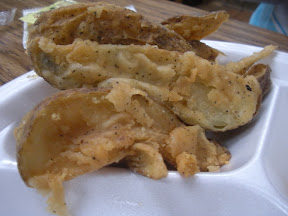 Lee's Fried Chicken in Rolla, MO is famous for their potato wedges, so we didn't pass at the chance to try them. They were soft, yet flaky and oh so good.
We are trying to stop at restaurants neither of us have been to before (non-chains if we can), and have been successful so far...ok so Lee's is a chain, but neither of us had heard of it, so we dove in for some greasy goodness.
In Marshall, IL we found Los Tres Caminos with tacos as big as your head! Well Rob's was anyway.
Well, that is about it for tonight, folks. I better get back to keeping my awesome driver company for our remaining 30 miles to Springfield. A key will be waiting for us at the quaint Walnut Street Bed and Breakfast. http://www.walnutstreetinn.com/ when we arrive. A hint to all travelers...call on the day you are staying and you get a huge discount. Worked for us!
until tomorrow..Goodnight!