It is currently 12:30 p.m. Indiana time and Rob and I are still driving to finish out our Tuesday. And my what a Tuesday it has been. Let me show you...'
So you remember that Bed and Breakfast I was telling you about last night. This was my first B and B experience and it was quite enjoyable. Each room in the Walnut Street Inn was themed after a famous person from Springfield, MO. We were placed in the O'Neil room...after Rose O'Neil. She was a famous illustrator who first created the Kewpie Doll. Look it up..I'm sure you will recognize it!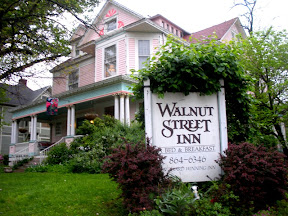 Here is the Inn from the outside and inside.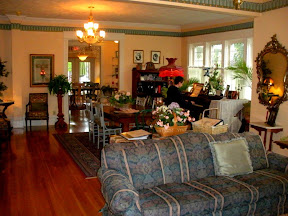 We started out our Tuesday heading to the first and largest Bass Pro Shop in the country. 150,000 square feet and about every wild animal you could imagine..stuffed, posed, and placed in natural looking man-made environments. The entire time, I was thinking, "Would you like some merchandise with these museum scenes?" It definitely made for a fun shopping experience.
Next, we headed to the World's Largest Fork also found in Springfield.
Then we visited Askinosie Chocolate Factory (www.askinosie.com). Our B and B innkeeper told us about this hidden treasure found in the rough part of town. The founder first spent his time in Springfield as a criminal defense lawyer, making big bucks defending criminals. After some time, he decided to quit and make chocolate. Not just any chocolate. His is unique in that he has complete control over the entire process of the chocolateering, including the bean itself. He has visited numerous countries around the world, creating a more economical point of sale for bean farmers by introducing them to profit sharing. He made sure the communities he sought out were one of low economic growth, so that the bean production would bring it back onto it's feet. We tried chocolate from beans grown in Tanzania, Ecuador, Philippines, and Hondorus. Each one was a little different, but all were so good. (I even bought a chocolate bacon cupcake).
Next on our stop were The Fantastic Caverns, the only drive-through caves in North America. They was discovered by a farmer who immediately called for people in the town to come help him explore further. Twelve women were the only ones to show up to do the exploring. Ya! During Prohibition, a back cavern in the cave served as a speak easy for the locals needing a refreshment.
Even though we weren't able to take the jeep ride through the cave because of flooding, we did get to walk though and see some of it..for FREE.
By this time, it was noon and we hadn't left Springfield. Hence why we are still driving at 2:30 a.m. Amarillo by Morning! On with the trip...
Our plan for lunch was to eat at a cliff side restaurant embedded in the side of a large hill in the Ozarks, but the flood waters kept us from getting there. Not without a fight though!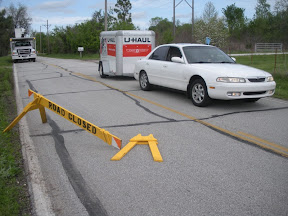 Here's Rob maneuvering his big rig backwards. This was before we tried another route, just to get turned down again by high waters.
So, we drove on towards Tulsa, stopping along the way to see this large concrete beast in Catoosa, OK.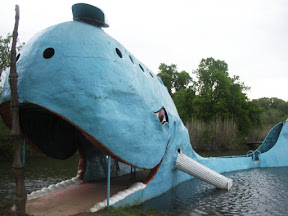 Can you find Rob in this photo?
We arrived in Tulsa and found our very first Tall Man at a traveler's center. And check this out...something crazy happened when we were there...
Rob Shrank!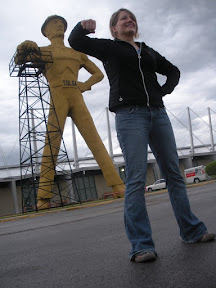 And I Grew!!
Next stop...Oral Roberts University in Tulsa. Home of the World's Largest Praying Hands.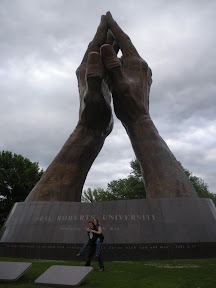 To all my Jasper friends and Family, check out below to see what we found!!! Made me miss those arcade games and free plastic checkered cups.
After Tulsa, we hopped back on the road and headed for Oklahoma City, searched for a giant Indian, jammed to "Runnin on Empty" and debated about where we wanted to stop for the night. We still had a couple stops to go, so we kept on moving!
Our last stop in Oklahoma was a giant wind turbine (photo on Rob's Camera), and then we cruised on into Texas. Texas greeted us with a lighting show on the horizon that we quickly caught up to. At that time, we welcomed back our dear old friend...rain. From here on out though, it should be clear blue skies.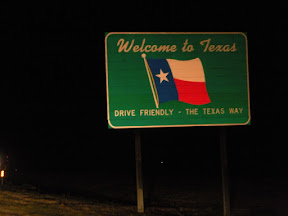 About 45 minutes ago, we left a small town named Shamrock, Texas - a town complete with an Irish Inn, Blarney Inn and Shamrock Country Inn. They even still had their St. Patrick's Day decorations adoring the streets. We couldn't find the famous Blarney Stone, but we did find a mural and plaza dedicated to their Shamrock Water Tower. Yeah...who knows! We were a little disappointed there were no stores open to buy official shamrock paraphernalia. What? No where open at 1am? :) Honestly, who can blame them?
Well, we are almost to Amarillo and after I get done blogging, the sweet sound of George Strait will be filling our ears as we arrive at our final destination to crash for the night. I'm excited to see what tomorrow holds for us!
Oh and Mom, I promise we will not make it this late tomorrow night!