One of my favorite people has been burdened once again with that nasty little beast - cancer. I have a good feeling this little lady will demolish the dragon- her attitude, determination and love for life are too strong for anything less! Leontien....Here are a few weapons to help you in your fight...
A sword for slaying. I hear Harry Potter used it, so it must be good!
Nun chucks - The only stipulation...you have to dress like a turtle and wear a red bandana around your eyes before you use these.
I hear he can help with anything!
And finally....
Always a must when fighting any battle!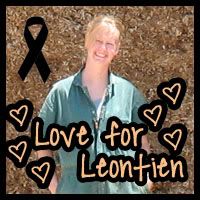 I feel a bit rusty on blogging lately, so OOPS if my codey thingy doesn't work for the photo above! If it doesn't work, then just be sure to visit Leontien's blog
Four Leaf Clover Dairy
and leave her some love as she enters into her battle. We love you Leontien!