This weekend was a treat. Literally. I got together with 11 of my fellow bloggin' buds this past Saturday for a Freeze-O-Rama fun time! (click the icon to see the whole crew)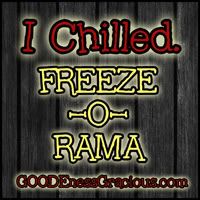 You may be asking - as all of my friends and family have already done - what the heck is a Freeze-O-Rama? A genius idea if you ask me. Twelve of us got together to cook masses of food. We were tasked to cook enough food for twelve other people and then share with everyone at the end. I decided to cook a dish I fell in love with this summer. Kale Pesto Pasta. I got the recipe from my friend,
Jaimie,
(the amazing cook) after I asked her to find an easy kale recipe for me. I had the leafy vegetable coming out of my ears after growing it in the garden this summer. Anyway...back to Saturday.
Because the stovetop was full most of the day, I decided to cook my entire dish in an electric skillet. At first I didn't think this could be done, but don't be fooled folks..it can! and it was!
I first had to cook down the Kale.

Gotta have garlic!
Walnuts - lightly toasted in the skillet.
Then, I blended the kale, walnuts, salt, garlic and parmesan cheese (sort of looked like the rumen of the fistulated cow I saw in my animal science class) sorry if you lost your appetite...
Then it was noodle cookin' time! That's right - in a skillet! Eight boxes in a row.
Finally, I divided it all up into 12 portions!
Even though I don't have an immediate family to feed as most of my fellow bloggers do, I still received all the food from everyone else. It sort of felt like Thanksgiving! Take a look...
Now that's a lot of food for one freezer!!!!
I took the food over to Mary's house, and we filled our bellies with fresh
shepherds pie
,
sausage cornbread bake
, hamburger soup, kale pesto, and
pumpkin muffins
. The funny thing is..this didn't even seem to make a dent. I was thankful they helped me and happy to share! As for the rest of the food...
Anyone want to come over for dinner?
___________________________________________
Here is the full recipe

:
Pesto
¼- ½ cup chopped walnuts
1 ½ -2 teaspoons salt
½ pound lacinato kale, stems removed, coarsely chopped (1 medium bunch should do)
2 cloves garlic, minced
½ cup olive oil
½ cup grated Parmigiano-Reggiano
Ground black pepper to taste
Whole grain pasta of choice
Add chicken if desired
Toast chopped walnuts in a dry, heavy skillet (such as cast iron) over high heat, stirring constantly until they start to brown and become fragrant. Alternatively, place on a baking sheet and toast at 325 degrees. Keep an eye on nuts – they burn quickly and will get bitter!

Bring about two quarts of water to a boil. Add 1 teaspoon of the salt, then add kale. Cook, uncovered, until tender (10 minutes) Remove from pot and drain.

In a blender or food processor, add garlic, walnuts and drained kale and whiz until well combined. Pour in oil in a steady stream, and pulse until combined. Add ½ teaspoon salt, pulse, then taste. Add remaining ½ teaspoon of salt if necessary.

Spoon pesto into a bowl and stir in cheese and pepper.

For ½ pound pasta, use 2-3 tablespoons pesto. Keeps really well in an airtight container in the refrigerator, for up to a week.

Freeze already-made pasta dishes in glass or plastic baking dishes and cover with aluminum foil and plastic wrap.
Makes about one cup of pesto.